Teen Leaders Build a Healthier Community
Martin Cardoso is a high school freshman, a basketball teacher and role model who dreams of a career in engineering. Eduardo Acosta, a sophomore, is no longer afraid to speak in front of large groups.
Martin and Eduardo attend Siena Youth Center, an after-school program of the St. Francis Center run by Rafael Avendaño who was hired in 2012 as its first director. Situated in the Fair Oaks community of Redwood City, California, the center offers educational support, leadership opportunities, art, cultural awareness, and health and wellness options such as hiking and biking. It even provides advocacy training for young people, helping them use their voices for influence while also serving the larger population.
As an immigrant from El Salvador who came to the U.S. at the age of three to live in San Francisco, Avendaño understands the importance of sports, outdoor time, and leadership opportunities during after-school hours. For young people, the Siena Youth program offers a mentorship model for addressing stigma, building trusting relationships, and disrupting systems of inequality such as the school to prison pipeline. For adults, the program has a variety of options including financial literacy and parenting classes. "We offer different ways to navigate and understand the systems that both support and oppress us," says Avendaño.
Outfitting the Community with Bikes
For example, Martin, Eduardo and other student leaders help organize an annual community health fair. After serving on committees for logistics, outreach and more, on the day of the event, they share their love of cycling with upwards of 500 community members by helping to outfit them with helmets, bikes and the skills to ride and fix them.
When these same students realized they needed a crosswalk in front of the Siena Youth Center to help the community arrive safely, they took their new skills to city council meetings to advocate for pedestrian safety. "When we didn't have one, it was dangerous to cross the street—the cars went so fast," says Eduardo.
When offered the opportunity to present their biking program at a conference in New York City, the high schoolers worked to raise the needed funds. Once they got there, they also experienced more of the world. "We got to explore places like Times Square, the Brooklyn Bridge and the New York subway," says Martin.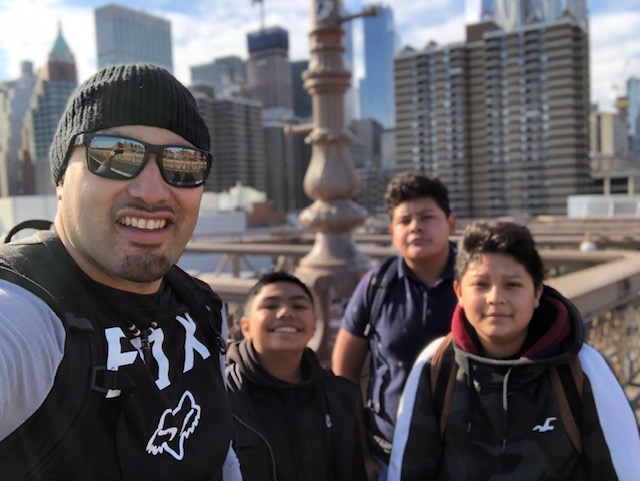 Creating a Different Future
Without these opportunities, what might these students do instead? "I'd be at home playing video games or watching television," says Martin. "I wouldn't be riding bikes, playing basketball or eating healthy."
"We wouldn't be as fit," says Eduardo. "Siena Youth offers nutrition classes, and any person can come from the community and join for free."
In addition to becoming visible leaders in their community and learning how to take care of themselves through sports, outdoor activities and nutrition, these young men also have a different perspective on the future. "Here there is a robotics program and Legos—I love Legos and never knew it before," says Martin. "Now I want to be an engineer and in my spare time, I want to be a mountain biker."
In the same way, programs such as the health fair and hiking opportunities put local nature areas, such as the Redwoods National and State Parks, culturally and practically in reach for families that might not otherwise visit them. "In North Fair Oaks, people don't have a lot of events," says Eduardo. "People don't have transportation or access." Or they didn't used to. Now they do, and Eduardo and Martin know first-hand how access to the outdoors and the building of a healthy community can change everything.
Teen Leaders Build a Healthier Community | Siena Youth Center