The following story provides two examples and models of successful private-public partnerships, working at the intersections of outdoor access, education, health, and equity. Written by Erin Borla (Executive Director, Roundhouse Foundation) and Fabiola Greenwalt (Program Officer, The Russell Family Foundation), these collaborations highlight how meaningful experiences outdoors improve people's quality of life, health and social wellbeing, and in turn, their communities become stronger and more sustainable.
During the last two years of the COVID-19 pandemic, there has been an increased demand for the outdoors and green spaces. However, not everyone is lucky to have access to green spaces that bring joy, and opportunities to destress, play, and be in the community. 
Trust for Public Land (TPL) is working across many cities and towns in the United States to redevelop schoolyards to better serve students during learning hours and transform them into accessible parks after school. TPL's long-term vision is to make community schoolyards a standard practice, serving as a hub for community empowerment, improved health and education, and climate resiliency. Not every community has a park, but nearly every community has a school on land that the public already owns. Transforming schoolyards into shared public parks is a common-sense, cost-effective solution to America's park equity problem.
Here are the stories of two places in the Pacific Northwest (Oregon and Washington), both rural and metro, where TPL and community partners are developing new community schoolyards.
Chiloquin Schoolyard Project
Roundhouse Foundation was introduced to TPL and the Chiloquin Schoolyard Project in late 2020.
With the support of the Klamath Tribes, residents, and the school district, the schoolyard at the local elementary in rural Chiloquin, Oregon, population 710, is being redeveloped into a green schoolyard and community gathering space. The community's goal with this project is to promote community building, healing, and health by transforming the 8 acres into a vibrant space representative of the people, place, and culture of Chiloquin.
Chiloquin sits just north of the California-Oregon border outside of Klamath Falls. This once booming community originally served as the heart of The Klamath Tribes (Klamath, Modoc, Yahooskin). It has a history of inequities including the termination of Tribes in 1954 where their federal recognition was lost, leading to the condemnation of their 1.8-million-acre reservation. In 1991, the mill at the heart of Chiloquin was closed, leading to increased challenges for the community.  
Despite living amongst the towering ponderosa pines at the merger of the Sprague and Williamson rivers, Chiloquin residents today have challenges accessing parks and locations to gather, play, and connect. Through the connection with TPL and their community building process, the reimagined schoolyard broke ground with a blessing from Klamath Tribal Chairman, Don Gentry, in late 2021.
The new schoolyard includes a fantastic mural created by artist Len Wilder, a 1965 graduate of Chiloquin High School, that livens up the space and reflects the student-selected theme – Chiloquin past, present, and future. The renovated schoolyard includes an impressive pole barn that will provide cover for the new basketball court. The grand opening celebration is planned for late August 2022 in conjunction with The Klamath Tribes' annual Restoration Celebration event.
Rural and frontier communities are often located amongst the trees with seemingly consistent access to outdoor spaces. he reality is, barriers to accessing these spaces exist for all communities.  Roundhouse Foundation (Sisters, OR) recognizes the need for access to close-to-home nature across the spectrum and supported a lead gift to TPL's new program, building on the learning from the Chiloquin Schoolyard Project, which will support three additional, high-need communities in rural Oregon. 
Programs like the community schoolyard projects are indicative of the spirit of rural and frontier communities – but the connections, opportunities, and financial support for projects like these are so often reserved for more metropolitan spaces. Roundhouse Foundation Trustees and staff were honored to help make rural communities a priority for this work.
The near-term goal is to redevelop three schoolyards to serve students and provide community parks outside of school hours. Long-term, this is an opportunity to develop a case study to drive changes to how capital funding is allocated and increase investments in schools serving rural communities while providing a model for partnerships and collaboration to maximize the community impact of these projects.
To select the next project locations, TPL has developed criteria for identifying communities of greatest need in Oregon's rural and frontier areas. TPL will apply a prioritization framework using metrics for health, education, and equity. Project prioritization will align with TPL's National Community Schoolyards Program, and be tailored to local needs and opportunities in rural Oregon. TPL will use these and other research tools to determine where investment would make the most significant impact on the lives of underserved populations while setting the stage for more systemic change in the state. The Schoolyards Program will give special consideration to school districts serving Native American communities.
The success of the Oregon Schoolyards Program depends on having strong local relationships and effective community organizers. In Chiloquin, TPL's partners include Oregon Health and Outdoors, the Ford Family Foundation's network of Field Coordinators, and the Oregon Community Foundation's program staff. With the new program, TPL will collaborate with partners and community leaders to identify communities that would benefit the most from the Community Schoolyards program.
Kristin Kovalik, TPL's Oregon Director said that Roundhouse Foundation's investment in the Oregon Community Schoolyards program has enabled TPL to take on an ambitious effort to revitalize and reimagine schoolyards in three new rural Oregon communities. Longer-term, they believe this work can shift how schoolyards are viewed across the region and build a case for increasing state funding for improvements to school grounds in rural communities.
Tacoma Community Schoolyard Projects
Located in the South Puget Sound region, Tacoma has the largest park access gap of any major city in Washington. In Tacoma's Eastside and South End neighborhoods, one in three residents does not have a high-quality park close to home and residents have some of the state's lowest life expectancies and higher rates of obesity, asthma, and heart disease. All told, 65,000 people do not live within a 10-minute walk of a park. Approximately five years ago, TPL started to work with communities in the Eastside of Tacoma to explore the potential of developing green and community-centric schoolyards to expand park access. 
The Russell Family Foundation has been pleased to support TPL's Tacoma Community Schoolyard projects since 2018 through grants from its Puget Sound Program. The focus of the Puget Sound Program was to help reduce the amount of runoff entering Puget Sound waters, which is the number one cause of pollution in our region. From the smallest creek to raging rivers to the Salish Sea and beyond, our region's waterways have long supplied our people with a most basic need – water.  So, protecting our waterways is vital for the vibrancy of the region's current communities and future generations. Green schoolyards provide a great opportunity to stop polluted water from entering the Puget Sound and TPL is leading the change by creating community schoolyards that incorporate green infrastructure that boosts climate resilience.
TPL has been working in partnership with Metro Parks Tacoma and Tacoma Public Schools to renovate five pilot schoolyards that will all be open by 2023 as part of their game-changing solution to America's park equity problem and that support climate resilience by capturing tens of thousands of gallons of stormwater runoff. This partnership will provide more than 40,000 residents access to new local green spaces. A key component of these projects is to ensure that these spaces are open not only to the students at the five schools but to their families and other community members that live within a 10-minute walk. 
The process of developing these schoolyards starts with community engagement and more specifically, student engagement in the classrooms with students taking the lead to design the schoolyard. Student ideas and designs incorporate the goals of the teachers, fellow students, and the greater community while addressing local climate challenges and adhering to a budget.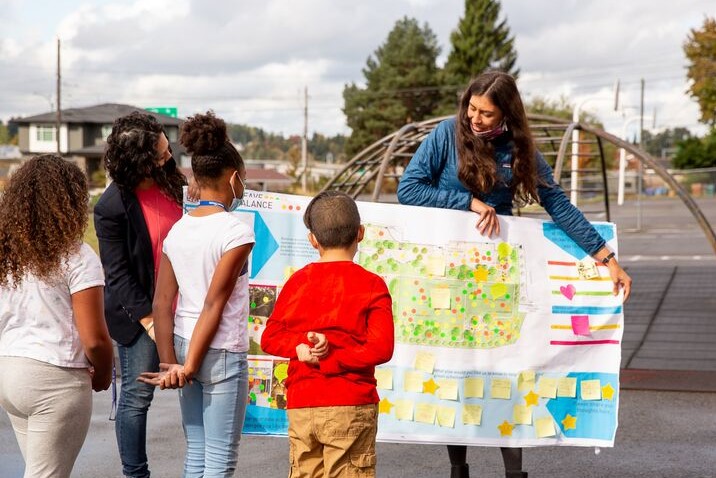 Sarneshea Evans, TPL's Northwest Parks for People Director said their team enjoyed working closely with the students at each of these five pilot schools and with local community members and groups to develop their vision for what is possible in their new community schoolyard. New amenities such as running tracks and walking paths, basketball courts, outdoor classrooms, and more trees will make a big difference to residents and ensure they have a great new community gathering space.  
To learn more about the program, you might enjoy this 3-minute video or the Tacoma Schoolyards program page on TPL's website.
Opportunity to Learn More
If you'd like to learn more about the power and potential of schoolyards nationwide, you might enjoy TPL's recent special report: "Community Schoolyards Projects: A game-changing solution to America's park equity problem."
Also please feel free to contact danielle.denk@tpl.org to learn more about their Community Schoolyards projects across the United States.