Kansas Students Learn, Cope and, Heal Through Environmental Education

By Laura Downey
Laura Downey is Executive Director of the Kansas Association for Conservation and Environmental Education
The small, rural town of Lecompton, Kansas, if it's known at all, is remembered as Kansas' first territorial capital or perhaps as the "Birthplace of the Civil War " for hosting public debates around the state's formation as a free or slave territory.  Not as well known is that Lecompton is the home of the John Dewey Learning Academy, an alternative high school that led the way in creating ambitious outdoor learning initiatives for students who were often left behind.  
The former Lecompton High School facility was built in 1927 and abandoned in 1970. By the time it became the home for John Dewey Learning Academy (JDLA), it had seen better days.  But it wasn't the peeling paint, broken windows, or unreliable heating that attracted Denise Selbee-Koch. It was the idea behind JDLA.  
An experienced social worker with a thriving practice focused on family preservation, Denise worked every day to serve children and families experiencing trauma.  One day, Denise's phone rang, and she found herself talking with JDLA's administrator, who said, "Your name keeps coming up.  Everyone says we need you." 
Denise learned JDLA serves students who were not successful in traditional educational settings due to experiences such as trauma, addiction, or incarceration. For these students, attending JDLA, earning a GED, or not completing high school are their only options. None of this deterred Denise, who was drawn to both the challenge and the school's focus on service learning.  She saw an opportunity to work with students who needed her in a school that was willing to try something different.  Denise said yes, and joined the faculty of JDLA.  
Neglected facility, challenged students. On Denise's first day walking the halls of JDLA, she noticed broken blinds on windows, missing tiles in the hallways, and an air of desolation.  It was not a welcoming space, but it was the space they had.  Denise quickly learned the school had been in chaos since its opening and, as a result, was not fulfilling its service learning charter.  
According to Vanderbilt University, service learning is defined as: "A form of experiential education where learning occurs through a cycle of action and reflection as students seek to achieve real objectives for the community and deeper understanding and skills for themselves."
By definition, service-learning involves students interacting with people outside of their immediate community. JDLA faculty recognized this as a potential challenge for their students, who learned and behaved better in smaller, familiar groups. The faculty set out to design service-learning opportunities that would not require interaction with people outside of the school.  They soon realized this challenge also presented an opportunity: perhaps they could take the students outdoors and take advantage of the well-documented benefits of nature connections for learning, mental and physical health, and community connections.
"The reality was they weren't ready to interact with the public. Our kids didn't have those skills; they were so angry and disenfranchised," explains Denise. Initially, the students collaborated to build trails at a nearby park and built an onsite garden. Faculty, especially Denise, took note of students' positive responses to outdoor service learning – they were more engaged, had fewer discipline issues, and were calm and relaxed. Denise knew she wanted to create more outdoor learning opportunities for students but wasn't quite sure how to do it.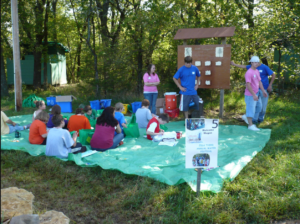 Where to start? No curriculum, no model. While getting students outside showed promise, teachers had no clear plan for engaging students in learning. Denise reached out to organizations with connections to the outdoors and soon found herself conversing with the Kansas Association for Conservation and Environmental Education (KACEE).  
Laura Downey from KACEE jumped into meetings with JDLA faculty, exploring ways they and other organizations might support the students of JDLA. As conversations continued, the JDLA administrator asked KACEE to plan and provide summer professional development training for the teachers, including curriculum mapping to center their learning around the environment and outdoors. With that goal in mind, KACEE staff met with the JDLA principal and teachers for an entire week in June to co-design methods for teaching language arts, math, science, social studies, and electives through service learning in the outdoors. For the first time, the JDLA faculty were enthusiastic about the possibilities of the fall ahead.
Lack of safe, suitable outdoor spaces. Because many of the students had challenges with social interactions and the school had limited onsite opportunities for service learning, the teachers recognized the need for new locations for teaching and learning outdoors. In addition to reaching out to KACEE, JDLA connected with the head of a local business' green team, with ties to the local chapter of Pheasants Forever (PF). PF offered a tract of land they owned at a lake not far from the school's campus for JDLA students to use for outdoor service learning. This provided JDLA with a suitable safe, controllable location, although it was a 20-30 minute drive from the school. Denise and the other teachers navigated the transportation challenges to make the site work.
Students learned concepts of ecology and biology every day while inventorying the land to identify the plant and animal species found on site. They learned about mapping, slope, runoff, and erosion as they mapped out and built trails. When parts of the trails washed out, they used green engineering to redesign those sections. They put their math skills to work designing and building a shelter space for learning and benches and tables for seating. They practiced their writing and speaking skills while offering site tours to area elementary students and perhaps even more importantly, had meaningful opportunities to practice their social skills. Sometimes they just sat under trees to read. The learning was rich, meaningful, engaging, and the JDLA students were hooked. When they were back on campus in LeCompton, they bugged their teachers about getting back to the outdoor site.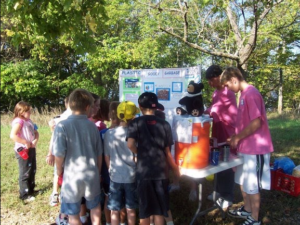 Impacts beyond school. As JDLA students grew and thrived, the teachers sought opportunities to expand the school's learning spaces and bring the students out into the community. JDLA students led lessons for 4th graders at the Topeka Water Festival and presented at the Kansas Environmental Education Conference, where they inspired environmental educators from around the state. The JDLA students even presented to the Kansas State Board of Education to advocate for opportunities for more students to experience the benefits of service-learning in the outdoors. They showcased data on increased attendance and decreased truancy at the school, and spoke passionately of the high-quality learning taking place and the decrease in discipline referrals. And most powerfully, they spoke of the doors that they felt had been opened for them, including one student who said, "I didn't think I'd ever graduate from high school, but now I am looking at going to college."  
"It made the kids problem-solvers, focused on what they needed to do, how to work, how to manage their behavior and thoughts and how to get jobs. A large portion of the kids we served have moved on to have good jobs, kids, remember their time at JDLA as being a part of that."  Denise Selbee-Koch
Today, many years after her experiences at JDLA, Denise knows this to be true. She frequently runs into her former students, who are now adults, and they've told her so. One student said to her that he still gardens and has perfected square foot gardening in his small space. Another former student now works on a farm and tells Denise the nature connection helps him cope with his challenges.
The JDLA experiences impacted Denise's life as well. Denise and another JDLA teacher co-founded Dirty Girl Adventures, a local business helping women feel capable and confident in the outdoors experiencing the physical, emotional, and mental health benefits that go along with being outside. Recently, Denise was on the banks of the Kansas River preparing to guide a women's kayaking trip when she heard a voice shouting, "Denise, Denise!" She looked over and there was one of her former JDLA students, Wesley. "He told me he had been sober for seven years and was with his uncle to do some fishing. He said that's what he does for his soul."