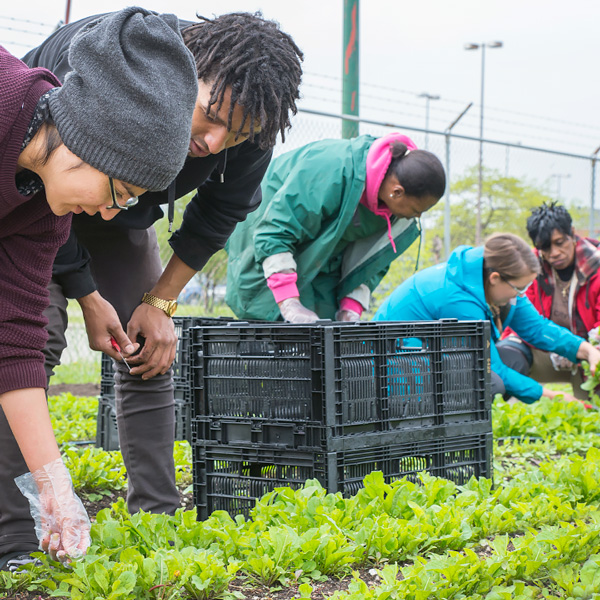 When Natasha Coleman was a freshman in high school, her sister connected her to the Chicago Botanic Garden's Windy City Harvest Youth Farm program. The experience would change her life. Starting as a crew member and then becoming a crew leader, she continued through her senior year. After completing the apprenticeship program, she took a job elsewhere but has since returned as an employee. She now works as a coordinator for Rodeo Farm, a two-acre commercial crop, composting, production and training site for Windy City Harvest apprentices and employees.
"Time spent getting to know others with diverse backgrounds, learning in the outdoors, food, health, and jobs strengthen communities and help address inequities."
WINDY CITY HARVEST
Rodeo Farm is just one of many farms, markets and programs that make up the Windy City Harvest legacy, now in its sixteenth year and Coleman is just one of many people who makes the program thrive. With a strong network of partnerships, the effort offers alternatives for Chicago neighborhoods struggling with violence, unemployment and the health problems that arise from a lack of nutritious and affordable food. "I'm more aware and concerned about what I eat," says Coleman. She also appreciates how efforts she's contributed to help people access produce at a price they can afford.
BREAKING DOWN BARRIERS
Chicago Botanic Garden's Angela Mason has been growing the program for more than a decade. She describes how the Apprenticeship program connects and educates people about food in hands-on and practical ways. "Some are high risk, some are low risk, and some are in the middle, and this fosters friendships and partnerships with people who wouldn't otherwise work together," she says. "It's really powerful and a way to take down barriers to getting to know somebody."
Once they've graduated from the program, they have a variety of options. They can go on to study aquaponics, get a certificate in urban horticulture, or join an entrepreneurship program and build a small local food business. Often this is done in partnership with someone with a different background that they met along the way.
After several years of learning what worked in the youth program, the Chicago Botanic Garden piloted the Windy City Harvest Corps program in 2007, focusing on job readiness and placement for people reentering the workforce, including veterans and those involved with the justice system. In addition to offering a much-needed second chance, it's an opportunity to connect with other people in the outdoors and find a productive path forward. Mason emphasizes the importance of partners in the Corps program and in every other effort to date. "We have 14 farm sites and we don't own any of the land," she says.
PROMOTING PERSONAL HEALTH AND WELLBEING
The Chicago Botanical Garden's work with Lawndale Christian Health Center to build a multi-use center at the Farm on Ogden is just one example of how all these efforts and partnerships literally bear fruit. With a teaching kitchen, a commercial cooking space for value-added products, offices, classrooms, aggregation and distribution spaces, the center will produce a projected 200,000 pounds of produce in 2019 alone. In addition, a healthy corner store fills prescriptions from the health center Veggie Rx program, giving participants with diet-related illnesses 10 visits that include cooking demos, nutrition education and boxes of healthy foods. When they run out, they return to their health care provider who can monitor their progress and prescribe a refill.
Ultimately, work like this empowers people with some of the most basic and fulfilling connections and nourishment. Time spent getting to know others with diverse backgrounds, learning in the outdoors, food, health, and jobs strengthen communities and help address inequities.
Coleman sees this every day, and the memories stick with her. Like when she worked at a farm stand as an intern in the apprenticeship program and helped the elderly people who'd come by, sometimes pulling themselves up in a wheelchair. She felt satisfied knowing that they wouldn't have to go any further, or navigate the bus, to try to get good food. As she handed them the produce that they already knew what to do with, they would simply relish the moment, sometimes sharing a treasured memory of growing up on a farm—and loving that she could experience it too.
​