Connecting Kids to Themselves, Each Other, and the World Around Them
When kids who attend Camp ACE at Peralta Hacienda Historical Park look back, they remember safari-style exploring, observing insects and doing scientific water quality experiments in Peralta Creek. They recall playing, making art outside, and feeling cared for while learning about their neighborhood's history and culture. And they remember doing their part to care for the land by planting native vegetation, removing weeds and beautifying this special park. Located in Fruitvale, one of Oakland's most diverse communities, camp memories also reflect the unique opportunities of having such an experience alongside others with distinct cultural perspectives who come from all over the United States and world.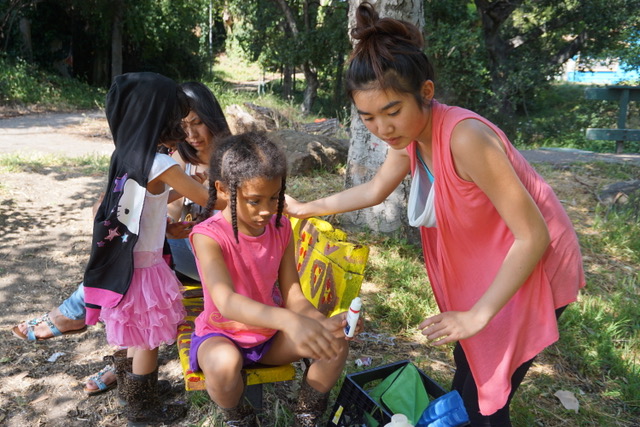 Camp ACE, a free five-week summer camp for kids from ages five to 21, is an integral part of Peralta Hacienda Historical Park's year-round environmental programming. The camp's name, A.C.E., stands for its holistic curriculum in arts, culture, and environment. Youth get the chance to explore the natural world while expressing their creativity and diverse cultures.
"We have a six-acre site with a creek that is a nature laboratory. In addition to guest speakers, field trips to other nature areas around the Bay, and neighborhood  explorations, kids spend time in the park's creek area and native plant garden, following in the footsteps of Native Americans and the first Mexican family of the East Bay, the Peraltas," says Executive Director Holly Alonso. "They gain pride as they learn about Fruitvale's amazing history, and go on field trips that show them natural and cultural resources open to them in the wider world. They have so much fun outdoors as they collect truly spectacular mushrooms, study the movements of worms, or observe macro-invertebrates in the creek that they don't realize how much academic knowledge they're gaining in STEM. And all the campers bring their own languages and foods, and their own cultures' stewardship practices, which they share with each other. We've always been oversubscribed. We would love to have twice as much funding so we could accept everyone."
The camp also fosters teen leadership through its internship program. Youth over 16 serve as support staff and role models to the younger kids attending Camp ACE. Most of the interns start as campers and come back year after year, eventually being trained and becoming paid interns.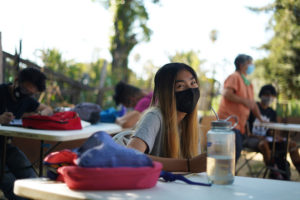 Kim Zhen learned about the opportunity from her grandmother, Diane Wang, who teaches in Peralta Hacienda's Youth Making History program. Currently in college, Kim's been involved with Camp Ace since she was 13 when she served as a junior coach, assisting the younger children while still in middle school. "It's always been one giant family," she says. Some of her memories include making and eating lumpia, a traditional Filipino spring roll, demonstrated by neighborhood elder Terry Lima, on the park staff, and drinking tea with herbs from the garden. Camp ACE instructor Beto Bracho linked her to the East Bay Academy for Young Scientists at the Lawrence Hall of Science, where she learned about water testing and applied those skills when at camp.
Zhen came back this summer to help with COVID safety practices at Camp ACE. She recognizes how the camp has contributed not only to her desire to explore nature in her own neighborhood but how the experience also pushed her out of her comfort zone in constructive ways. While still in high school she took public transportation on an ACE field trip to San Francisco, and has gone on to discover many other natural and cultural resources around the region through the program.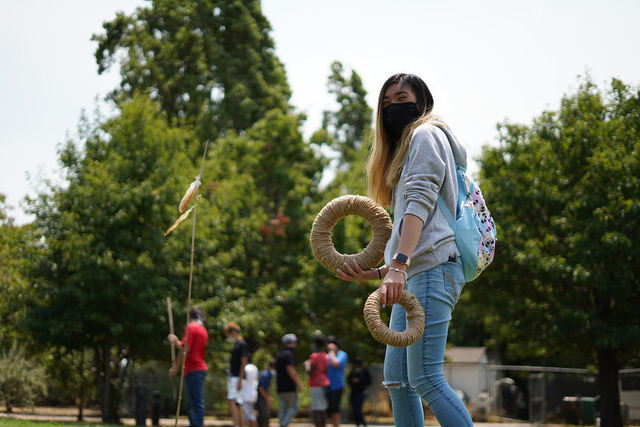 Alvin Vongphachanh first attended Camp Ace around the age of 12 and later heard about the opportunity to be an intern from his aunt who had previously worked there. Until her death in 2012, his grandma was one of the many gardeners from the Laotian Mien refugee community who cultivate Peralta Hacienda's thriving community gardens. At Camp ACE, the Mien elders teach their age-old organic gardening techniques to youth of many cultures. As a first-generation American, Vongphachanh witnessed first-hand the struggles faced by his mother and his community, as they worked to establish themselves.
"Some of the kids at camp, might not be in best situation, or their family might not always be a typical family," he says. "Seeing that made me realize that not every kid has equal things at home. Even for me, my dad when I was 6 or 7, he had to go. I didn't have a father figure for a long time."
Working at the camp was the most Vongphachanh had been outside at that time, aside from the gardening he'd done with his grandma. He remembers the sense of freedom and friendship. "At the start of the day, we would bring everyone in a circle and sing a song together. In school, that doesn't happen very often. It gives the impression that everyone is connected and we're all here for each other."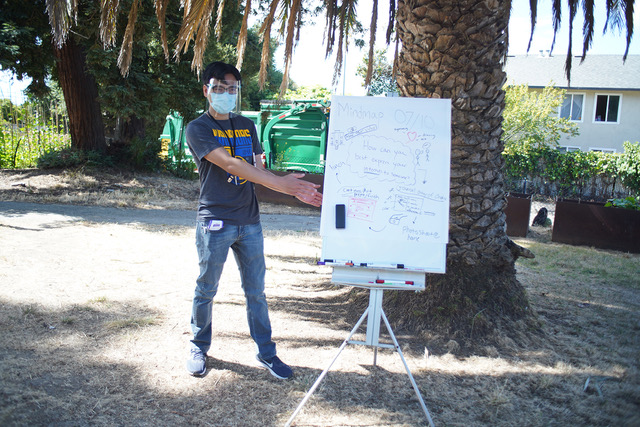 Today, Vongphachanh has traveled widely, including a study-abroad trip to Japan where he appreciated the way the culture integrated nature into the living environment.  He's now a recent first-generation college graduate looking to complete a year of service as a City Year AmeriCorps member. As a psychology major, he doesn't know if he's going to go into education or counseling but appreciates his time at Camp ACE and what he learned outdoors and by listening to the kids to understand what they needed.
Allan Ahumada heard about Camp Ace through the Unity Council OYE program when he was a junior in high school. They sent him to Peralta Hacienda where staff trained him about how to teach science and outdoor education. He's worked there ever since. "I love it," he says. "It's in the middle of a residential area but surrounded by trees—a whole little world." The park is one of the few open spaces in Fruitvale, an area with the highest percentage of children and youth but the least open space per capita.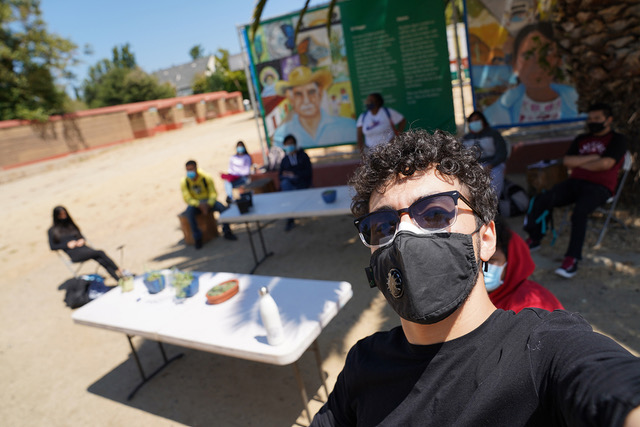 Ahumada particularly enjoyed the camp's creek-study opportunities, his first experience working with kids. More recently, it provided a welcoming and safe place to socialize and contribute meaningful work during COVID-19. Now entering his fourth year of college, he appreciates how his time there has opened up new pathways. "Now that I'm in college, I'm picking up more educator roles, working with kids and people in my community," he says.
During uncertain times, when young people like Zhen, Vongphachanh and Ahumada are finding their way in a challenging world, their common experience at Camp ACE informs and supports who they are and who they will become as leaders in their professions and community. "Everybody at camp ACE watches each other's back and takes care of each other," says Zhen.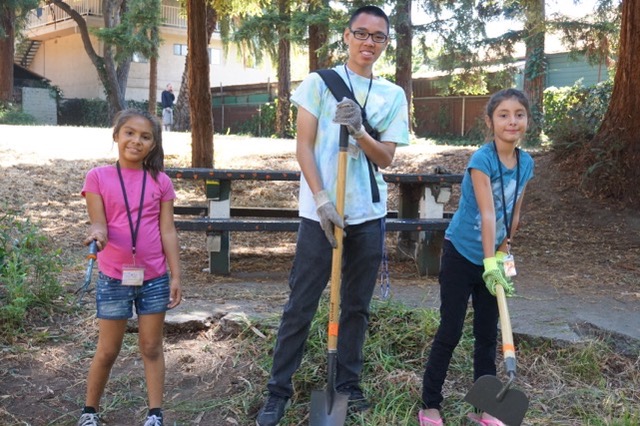 "It's important for kids to learn a lot of things early on," says Vongphachanh. "Experiences like those at Camp ACE, where kids are safe and can look up to someone, can stick with them their whole lives."
"I would love to train the students that I have now to become instructors like myself," says Ahumada. "They have it in them. They understand the history of Peralta. They know this stuff. That happened to me. I've been there."
Connecting Kids to Themselves, Each Other, and the World Around Them | Peralta Hacienda Historical Park